Posted by Paraic Horkan on 17/11/22
The wonderful, fresh aroma of a real Christmas tree diffusing around a warm and cosy living room is something that we are familiar with at this time of year. Here in Ireland, we are lucky enough to grow some of the highest quality trees in Europe. Irish Christmas trees are known for their solid conical shape and deep-green, scented foliage. This allows us to have a beautiful and traditional centrepiece in our homes this Christmas. When choosing a real Christmas tree for your home there are a number of things to consider, outlined here.
Choosing Your Real Christmas Tree
When selecting a real Christmas tree there are a number of things you need to look out for to ensure you choose the perfect tree. It is important to look for the following:
Full, well-branched tree shape.
Branches that are evenly spaced from head to toe.
Deep green foliage.
Fresh pine scent.
Clean stem to place into a stand.
At Horkans, we recommend you buy a Nordmann Fir Christmas tree. Normann Fir's have better needle retention than most trees. The needles are softer and they stay on the tree, not on the carpet. Nordmann Fir trees have a full 'real Christmas tree' shape and a more consistent shape from top to bottom. The foliage is a deep green and they hold their foliage well into the new year. A Normann Fir tree is easy to decorate and impresses with a fresh pine scent.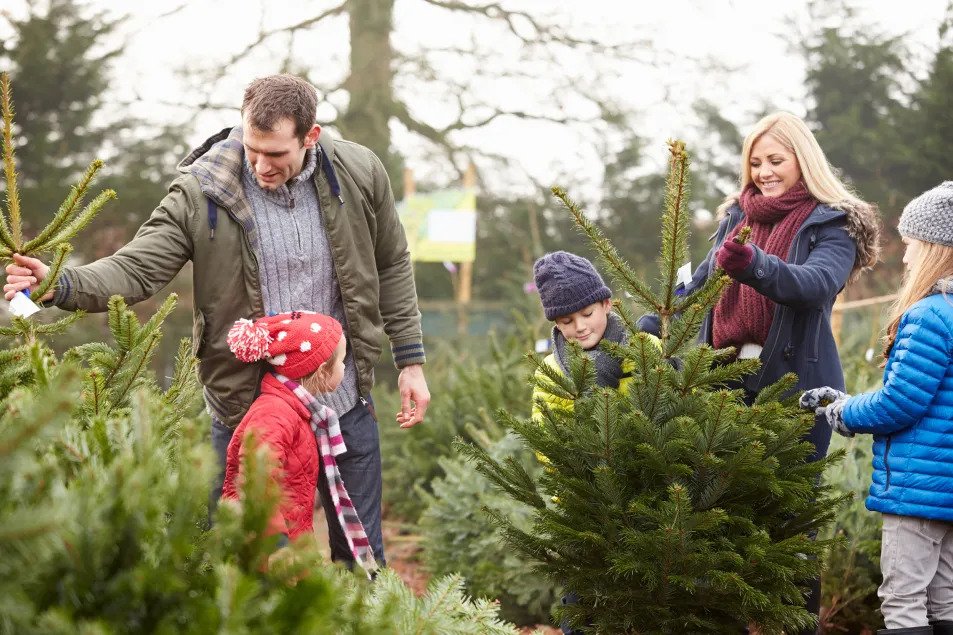 Nordmann Fir Trees
Our Nordmann Fir trees are all grown in Ireland. They are grown and managed on Irish farms, specifically for the Irish home. Once a Nordmann Fir tree is planted as a seed it is personally cared for and tended to for at least eight years. It is fertilised, shaped and kept free of pests and weeds. It is then carefully cut, measured, packaged and labelled to ensure a perfect Christmas tree. Once a Nordmann Fir tree is cut down it is replaced with ten new trees, which are then grown for a full eight years before harvesting.
Christmas Tree Stands
It is important to add a sturdy base of support to your real Christmas tree. We recommend a wide-based, solid resin stand that is large enough to fit the base of the tree. It is also important to ensure there are a number of fasteners to secure the tree. Finally, your tree stand should have the ability to hold water as this helps to keep the tree fresh.

Caring For Your Real Christmas Tree
We all want our Christmas tree to remain lush and green throughout the Christmas season. With just a little bit of care your tree should do just that...
Top Tips For Looking After Your Real Christmas Tree
The first thing you need to do is cut 2cm off the base of the tree, just enough to expose some fresh wood. This opens the pores to allow water to absorb through the tree.
Next, use a water holding stand and keep the base of your tree submerged in water. Refill the base with water daily.
Add some cut flower food or sugar to the water, this will act as a natural supplement for the tree.
Keep your tree in a cool place, away from direct heat (anything above 20°C is too high).
Frequently Asked Questions
Are real Christmas trees environmentally friendly?
Real Christmas trees provide oxygen, are replaced when they are cut down and are completely recyclable. They are much more environmentally friendly than artificial trees which are made of plastic (a non-renewable resource), which is not biodegradable.
Where can I recycle my real Christmas tree?
Local authorities throughout the country offer free recycling of real Christmas trees. Just contact your local county council for drop off points and information.
Real Christmas trees can simply be mulched into bark mulch which is an organic material used in shrub beds and around trees to help suppress weeds. Local authorities will use the recycled tree bark to help create weed free shrub beds and borders in local communities throughout the country.
Is my Christmas tree still alive?
Once a Christmas tree is cut down, it is no longer alive. However, if it is freshly cut and kept in a water filled stand it will consume water through its stem. This process slows down the deterioration of the tree and keeps it fresh for longer.
Would Christmas be the same without a real tree?
Simply, the answer is no!
Do you have questions about Christmas trees? If so, just contact your local store where one of our helpful and knowledgeable staff will be happy to help and answer any questions you may have.